Flappy Bird Arcade has been released a few different times over the years, but all of them have the same game mechanics as the original on the App Store.
This version was meant to be a version that people can play at their local pubs or bars. It's normal flappy bird with Redder bird and a single button in the middle of the machine. It is unknown how many of these were produced and what company contributed to this.
This one is like a game of Stacker, but instead of stacking blocks, you flap the bird through the pipes until a certain number has been reached for a small or large prize.
This one is like the Doodle Jump machine, but with Flappy Bird and one large button in the middle of the machine. Same thing applies with the machine mentioned above, but it dispenses tickets instead of prizes.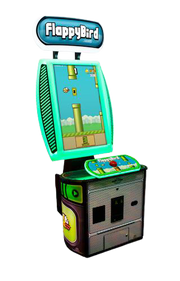 Trivia:
One year prior in 2014, there was another flappy-clone machine called "Flying Tickets", which had multiplayer, but functioned the same as the 2015 Flappy Bird Arcade machine.
Media: