Jurassic World: Dominion Dominates Fandom Wikis - The Loop
Play Sound
Flappy Bird


Information
Developer(s)
Dong Nguyen
Publisher(s)
.GEARS Studios
Platform(s)
Discontinued
Released
May 24, 2013
Mode(s)
Single-player
Additional Info
App Size
Unknown
Requires iOS
Unknown
Requires Android
Unknown
Content Rating
Unknown
Flappy Bird is a game where you tap the screen to make the bird fly. This is a frustrating game to some people, as if you hit a pipe, your bird falls and you restart the game. However, some people believe that not fully focusing on the game or focusing only on the bottom pipe helps you get a higher score. This has not been proven to be true. Sadly, this game can no longer be downloaded on any device. On March 11, Dong Nyugen said he may consider bringing it back.[1]
Medals
Up till 40, every ten pipes you pass you will earn a medal ranging from bronze to platinum[2]. These do not affect the gameplay, but they are an achievement to earn:
40+ pipes- Platinum Medal
| | | | | | | |
| --- | --- | --- | --- | --- | --- | --- |
| Bronze | | Silver | | Gold | | Platinum |
Highscores
While the general score for beginners is below 10, players usually get better and better over time as they play. A very impressive score is over 100, being incredibly hard to achieve[3]. In the Play Store, the high scores are within the millions, but those scores were very likely gotten by the use of cheat engines or hacking[4].
Mario Easter Egg
WARNING: THIS IS NOT CANON AND WILL NOT HAPPEN.
According to a 1 1/2 minute long YouTube video posted by pipocaVFX on February 15, 2014, when you reach the score 999 in Flappy Bird, the game proves to be far harder and complex than it seems at first. In the video, the pipes form a maze and begin to move up and down on their own. The bird then approaches several piranha plants (from the mario series) before reaching the Final Boss, the video game character Mario. The player is forced to jump several times to dodge the bullets thrown by the Mario, but unfortunately dies in the end. This video is considered to be a cleverly modded version of the original game due to its complex and amusing visual effects, quite the opposite of Dong Nguyen's pixelated and simple mobile game.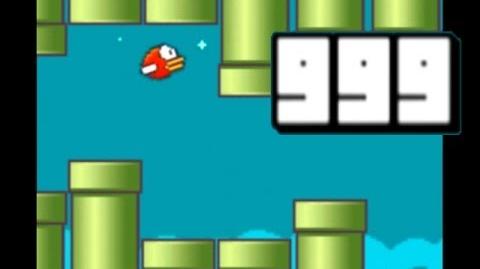 Help
Focus on the bottom pipe to avoid over-flapping.
 But make sure you pay attention to the top pipe as well!
Don't be afraid to fall, because the bird still covers distance.
Do not get over confident!
References